Data Center NJ1, USA (New York)
Data Center NJ1, USA (New York)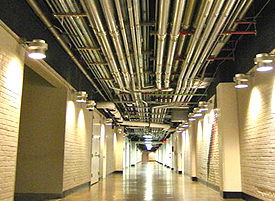 The 360,000 square foot building was completed in 2010 and features 36.4 MW of critical power load capacity. The facility is equipped with 32 Rotary UPS Power systems capable of 1,300 kW critical output each in an N+2 redundancy configuration.
ColoCrossing believes those who are in charge of hosting deployments must select their colocation partner carefully. After all, you are sending valuable equipment to a data center, which often times you, will never see for yourself.
ColoCrossing recognizes that this can present a level of uncertainty. For that reason, company have worked tirelessly to simplify the colocation process, making it transparent and painless.
Data center Specifications
Size - 360,000 square feet;
Network capacity - 120 Gbit/s;
Utility - 1.44 MW power feed;
32x diesel-powered - 2.25 MW capacity each;
32 x rotary UPS systems; 1300 KW each
Total cooling capacity130 tons;
24/7/365 electronic monitoring.